Digital clamp meter has AC current range 0-1000A, maximum jaw opening size 55mm, 4 digit display and maximum value 1999.
Specification:

Basics
Model
UA6266+
Weight
310g
Size (L*W*H)
230*70*37mm
Display
4 digit LCD display
Maximum display value
1999
Power supply
DC 9V, 6F22 battery
Maximum jaw opening size
28mm
Woring environment
Temperature: 5℃~35℃ (41℉~95℉), relative humidity:<75%
Storage temperature
-10℃~+50℃ (14℉~122℉)
Accessories
A pair of test probes, a user manual, 6F22 battery
Functions
Item
Range
Accuracy
AC current
1000A
±(3.0%+10 digits)
DC voltage
1000V
±(0.8%+3 digits)
AC voltage
750V
±(1.2%+5 digits)
Resistance
2000MΩ
±(5.0%+2 digits)
Special functions
Diode test
Display forward voltage value of diode
On-off buzzer
Continuity test buzzer
Data hold
Hold the reading when taking a measurement
Automatic power off
Automatic power off when 15 minutes no operation
Overload protection
Overload protection for 100% range
Range selection
Manual range selection
Backlight
Backlight for LCD display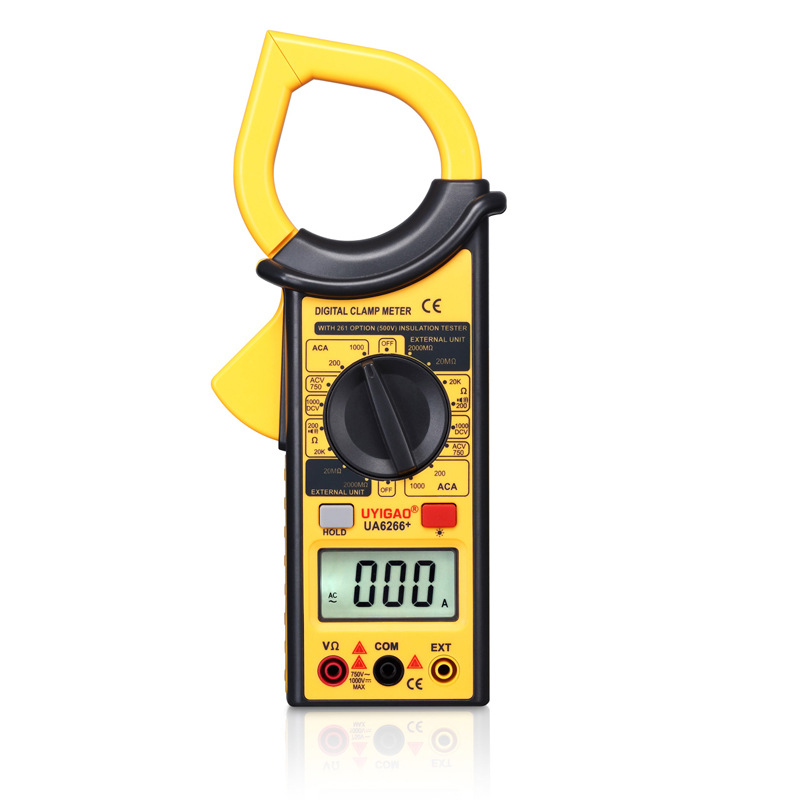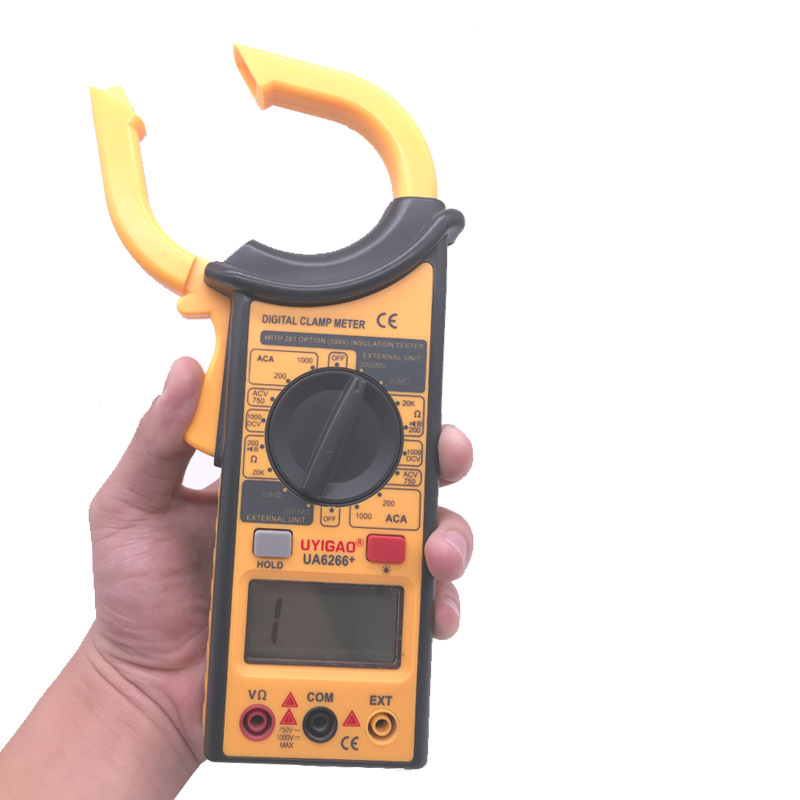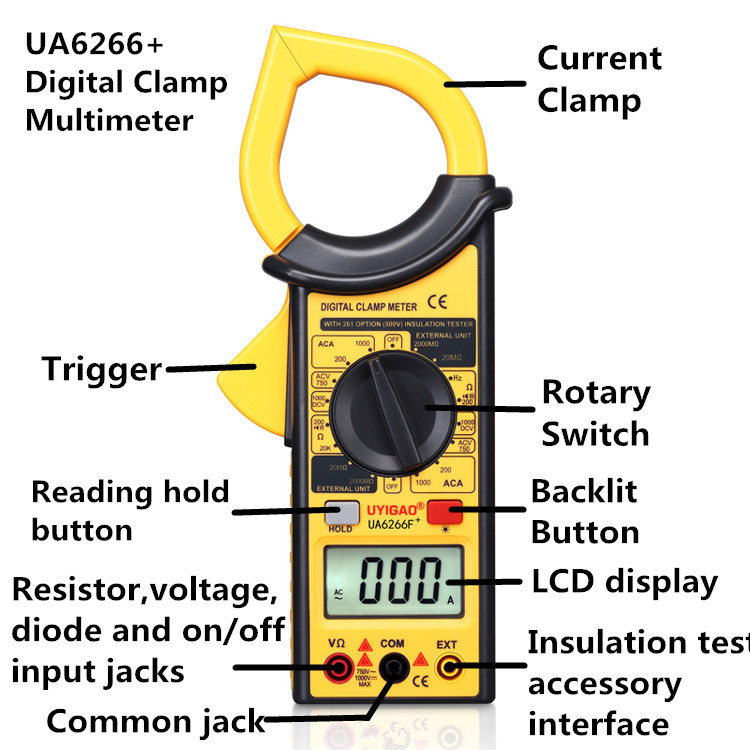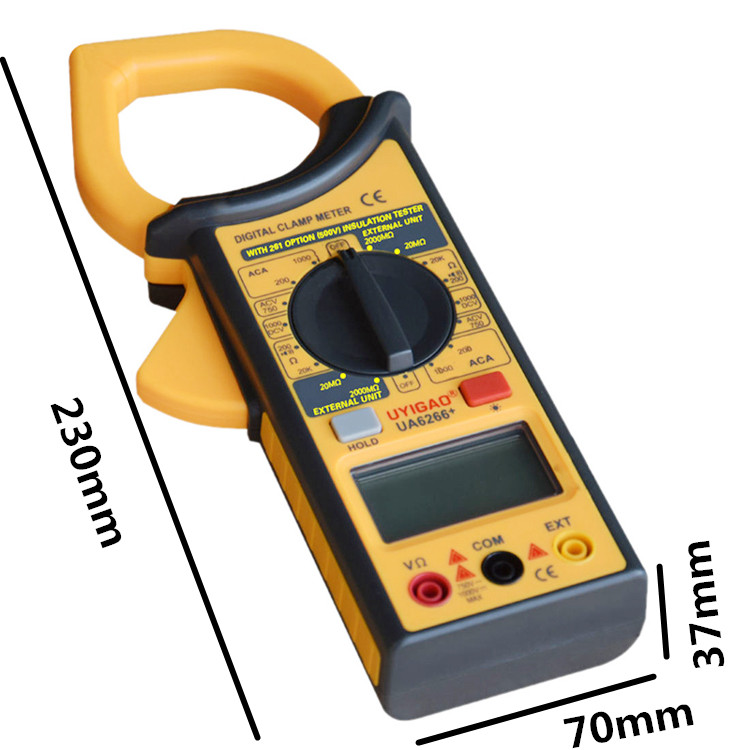 Specifications:
Model:UA6266+
Color:Yellow
Display: 3 1/2 digit LCD
Maximum display value: 1999 number.
Polarity indication: automatic indication, '-' indicates negative polarity.
Overrange display: '1' or '-1'.
Sampling time: about 3 times / sec
Unit display: with function, power unit display.
Power: DC power supply 9.0V
Jaw opening size: 50mm cable diameter is not more than 50mm
Static working current: no more than 2.0mA (without backlight)
Battery type: 6F22 9V battery
Battery undervoltage indication: LCD displays symbols.
DC voltage(V):1000V
AC voltage(V): 750V
AC current (A):200A/1000A
Resistance(Ω):200Ω/20kΩ
On-off test:200Ω
High resistance test (with 500V insulation test accessory):20MΩ/2000MΩ
Temperature coefficient: less than 0.1 × accuracy / ° C
Working temperature: 18 ° C ~ 28 ° C
Storage temperature: -10 ° C ~ 50 ° C
Size: 230 × 70 × 37mm
Weight: about 310g (including battery)
Ambient temperature: 235 ° C
Relative humidity: < 75%
Accuracy: ±(a% × reading + word count)
Accuracy guarantee period: one year
Package Included:
1 x Digital Clamp multimeter
2 x Test Pens
1 x User manual